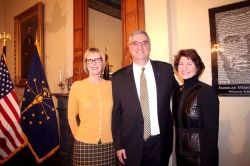 We are pleased to announce that Elaine Bedel, owner of Bedel Financial Consulting, Inc., has been named president of the Indiana Economic Development Corporation (IEDC) by Governor Eric Holcomb.(Read the Press Release)
"Elaine's bold leadership and extensive experience as the owner of her own financial consulting company will be great assets to promote Indiana's positive business climate and jobs magnet reputation," said Governor Holcomb.
Elaine will replace Jim Schellinger, who will serve as Indiana's Secretary of Commerce. "I look forward to working with Elaine to ensure that Indiana remains a state that works, supporting the growth of Hoosier businesses and attracting new companies to Indiana," said Schellinger. "Elaine's firsthand experience as a business owner and her considerable leadership in the private sector will make her a tremendous asset to the IEDC and to businesses across Indiana, strengthening the state's economic momentum and propelling Indiana to the next level."
Elaine released a statement to BFC's clients to announce her new position with the IEDC and to clarify her continuing role with Bedel Financial.