Bedel Financial Recognized as one of the "Top 10 Financial Advisors in Indianapolis" for the 5th Year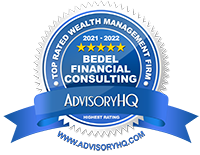 Once again, Bedel Financial Consulting, Inc. was recognized as one of the "Top 10 Financial Advisors in Indianapolis, Indiana" for 2021 by Advisory HQ, an online news media that provides independent reviews and rankings of financial firms in the U.S., U.K., and Canada. Bedel Financial was also recognized on this list in 2016, 2017, 2018, and 2019!
To be recognized by Advisory HQ, a financial advisory firm must go through an evaluation process that includes a review of the firm's fiduciary duty, independence, transparency, level of customized service, history of innovation, fee structure, quality of services provided, team excellence, and wealth of experience.
Bedel Financial was specifically commended for our balanced approach to financial health, combining financial planning and investment management. We were also lauded for our clear commitment to providing personalized, client-centric service, as demonstrated by our fee-only structure, detail-oriented process, and customized services.
Schedule a Consultation
We have helped our clients answer these questions and more. If you want a clear understanding of your financial future, and need help making changes to reach your goals, schedule a consultation and we can get started.
The Advisory HQ Top 10 Financial Advisors in Indianapolis list was released on February 2, 2022. The research and analysis for this ranking publication were conducted from Jan 2020 to Feb 2021. Neither the Firm nor its representatives paid a fee to participate in the survey. This award does not evaluate the quality of services provided to clients and is not indicative of Bedel Financial Consulting's future performance.