Bedel Financial Recognized as one of the Top Women-Owned RIAs in the country_OLD
edel Financial Consulting, Inc. was recently named among the "Top Women-Owned RIAs" in the nation by WealthManagement.com. The firm was also included on this list consecutively since 2012.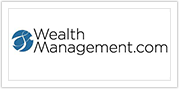 A registered investment advisor (RIA) provides investment management as well as other financial services and is regulated by the Securities and Exchange Commission (SEC). To be recognized by WealthManagement.com, advisors had to own at least 25 percent of their firm, provide financial planning for individual clients and have a client list that could include no more than 50 percent institutional clients.
Bedel is a renowned national and international speaker and a frequent contributor to magazines, e-newsletters and radio and television broadcasts. She authored "Advice You Never Asked For…But wished you had!" available on Amazon.com.
Bedel Financial is a wealth management firm providing fee-only financial planning and investment management services for individuals, consulting services for corporate retirement plans and investment advisory for institutions and endowments. Bedel founded the firm, which has since grown to 18 employees, in 1989. Bedel Financial actively manages more than $800 million in client investments.