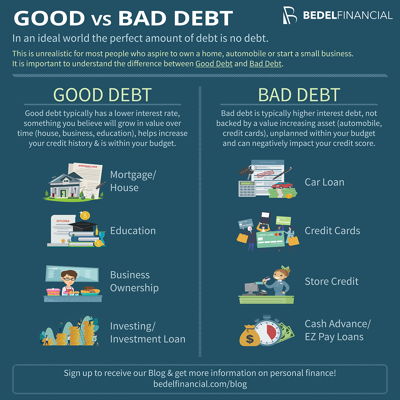 In an ideal world the perfect amount of debt is no debt. However, no debt is unrealistic for most people who aspire to own a home, automobile or start a small business. For many, certain types of debt can be a tool for building wealth. For example, if you take out of business loan at 4% interest and use the money to start a new company that grows by 10% per year, your risk in taking on debt is justified in your building of wealth. However, an example of taking on credit card debt at 20% interest is a different story. When we separate debt into two categories, Good Debt versus Bad Debt, we are better able to define the characteristics that separate the two. Good debt typically has a lower interest, something you believe will grow in value over time (house, business, education), helps increase your credit history and is within your budget. On the other hand, bad debt is typically higher interest debt, not backed by a value increasing asset (automobile, credit cards), unplanned within your budget and can negatively impact your credit score. One caveat to car loans being bad debt is when you are able to finance at a very low interest rate.
If you know anyone that could benefit from this information, please share using the links below!
Schedule a Consultation
We have helped our clients answer these questions and more. If you want a clear understanding of your financial future, and need help making changes to reach your goals, schedule a consultation and we can get started.