Sub-heading

Info about the page.

College Choice, the Indiana 529 plan, is a great way to save for college expenses. However, we frequently get questions regarding who can use the funds; the benefits of being an Indiana resident; and whether out-of-state schools are included.
Indiana has one of the best 529 plans due to its low cost and strong investment options as well as the income tax credit received by the contributor. As a quick refresher, a 529 plan is a savings account for post-secondary education expenses. Each 529 plan has an owner and one beneficiary. The beneficiary is the student whose costs can be paid from the account. Money contributed is not deductible, but all earnings accumulate tax-deferred and then are distributed tax-free if used for qualified education expenses.
Answers to frequently asked 529 questions are provided below:
What is the Tax Incentive for Contributing?
Indiana is one of the few states that offer its residents a tax credit for contributions to an Indiana 529 plan. The credit is equal to 20% of the amount contributed during the year, up to a maximum of $1,000.
Many states offer tax deductions instead of tax credits. There is a significant difference between the two. A tax credit reduces the tax that you owe. A tax deduction reduces the taxable income on which the tax is calculated. For example, let's assume an Indiana resident makes a $5,000 contribution to a College Choice 529 plan. The taxpayer gets a $1,000 credit on taxes owed. If, instead, a tax deduction of $5,000 was received, at a 5% tax rate, the reduction to taxes owed would only be $250 ($5,000 times 5% = $250). Because Indiana gives a credit instead of a deduction, an additional benefit of $750 is received.
Do Only Account Owners Get a Tax Credit?
No. Any Indiana resident that contributes to an Indiana 529 plan, regardless of who owns the account, is eligible to receive the tax credit. And, multiple contributors to the same account are each eligible for the credit. For example, let's assume that a parent establishes an Indiana 529 account for his/her child and makes a contribution. The parent is considered the owner of the account and the child is the beneficiary. If a grandparent also makes a contribution to the account, both the grandparent and the parent will receive a tax credit.
Does the Beneficiary Need to Live in Indiana?
No. The Indiana College Choice plan can be established for a beneficiary that lives outside of Indiana. This means that a grandparent could set up an account for a grandson or granddaughter who lives in another state. Since the grandparent lives in Indiana, he/she can make a contribution to the plan and receive the Indiana tax credit.
Is the Beneficiary Required to Attend an Indiana College?
No. The beneficiary of an Indiana 529 account can attend any accredited college or university that they choose. They do not need to attend a college within the state of Indiana in order to utilize the account to pay for tuition, room and board, or other qualified expenses. The 529 plan is also available to be used for costs relating to any post-secondary education, including vocational or professional schools.
Does Ownership Matter?
Yes. The owner of the 529 plan makes all decisions regarding the account and maintains control of the funds. The owner makes investment decisions; approves all distributions for qualified college expenses; is permitted to change the beneficiary to another family member; and can withdraw the funds for non-educational purposes (taxes and penalty apply). The owner makes all the decisions.
Summary
If you are an Indiana resident, the best place to save money for your student's education expenses is with the Indiana 529 plan, referred to as College Choice. It has all the benefits of a tax-free investment and the flexibility to change the beneficiary or take the money back for your own use. For further information, visit the Indiana 529 plan's website at www.collegechoicedirect.com.
Have more questions about 529 plans? Schedule a Consultation!
Single article embedded with module. Test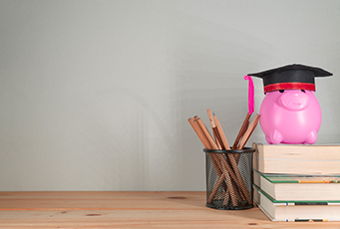 Many students have financial decisions to make due to the COVID-19 pandemic. How does the CARES Act affect student loan borrowers and those who used a 529 plan for college expenses?
What You Need to Know to Save For College and Save On College
The cost of attending college continues to rise and there is little we can do to alter this trend. If you are planning to assist with education costs for your children, you'll not only have to start saving earlier but you'll have to save smarter as well. "Education Funding" covers the pros and cons of the most popular savings vehicles. It also provides information on funding sources and gives you some financial strategies that can help your education funds go further.
this is our ebook - so we can add from the Resources page if there's anything there as well.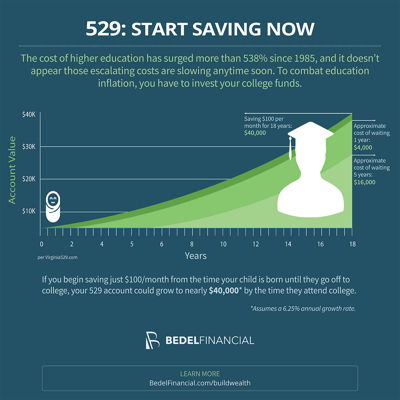 Schedule a Consultation
We have helped our clients answer these questions and more. If you want a clear understanding of your financial future, and need help making changes to reach your goals, schedule a consultation and we can get started.
Looks like there's a SAC area automatically at the bottom of an infographic added with the Module - Mojo hopefully can fix that.

Also, I could not get a single FAQ/Ask Bedel (or a selected set) to filter in so would need to work on that.