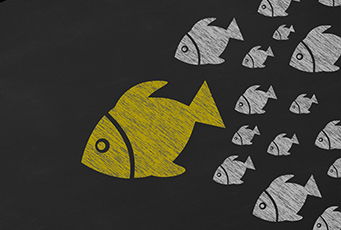 Most people can't get enough information about celebrities, including what products they do or don't recommend, and social media is a great place to connect with them. You probably follow a celebrity or two yourself! Companies capitalize on this interest by seeking out endorsements from popular celebrities. So what does that have to do with your portfolio? Celebrity recommendations can impact the stock market. Just ask Snapchat—its stock dropped over $1 billion in market value in a single day!
Endorsements have been around for decades
Celebrity promotions date back to the early 1900s with baseball player Babe Ruth. Ruth endorsed a wide range of products, such as tobacco, clothing, and cereals. Over the decades, celebrities continued to plug products—Lucille Ball for Carling's Red Cap Ale, Raquel Welsh for Foster Grants, and Tom Selleck for Chaz, to name a few.
When social media kicked off in the early 2000s, the use of celebrity endorsements hit an all-time high. Companies jumped at the opportunity to reach millions of consumers in a matter of seconds.
The huge impact of social media
Pew Research Center, which has been tracking social media use in the U.S. since 2005, reported that only 5 percent of Americans used social media platforms that year. By 2018, 69 percent, representing all generations used at least one. The report also revealed that most users check the more popular platforms—Facebook, Instagram, and YouTube—at least once a day.
Celebrities may influence us to try a particular shampoo or pair of tires, but that is a far cry from influencing the stock market—or is it?
Back in January 2018, DJ Khaled signed a deal with Weight Watchers to become a social media ambassador and its stock rose around 8 percent that day. This is not the first time that this has happened to Weight Watchers. When Oprah Winfrey took a 10 percent stake (about $43.2 million) in the company back in 2015, the share price nearly doubled in value. Prior to this, Weight Watchers' membership, meetings, and revenue had all been falling. Oprah brought the stock soaring again after her acceptance speech at the 75th Golden Globes this past January. Her speech went viral for addressing issues like gender, race, and current political issues. The following Monday after her speech, Weight Watchers stock rose 14 percent.
Celebrities can also have an adverse effect. This January, Kylie Jenner tweeted about her decreased use of the app Snapchat, which had recently released a complete redesign. Immediately following Jenner's tweet, Snapchat's stock price fell 6 percent, a reported loss in market value of about $1.3 billion.
Celebrity influencers and your portfolio
Short-term fluctuations in the stock market are unavoidable; investors should focus on a long-term perspective based on the underlying value of a company, such as a strong balance sheet, income statement, and management. According to data collected from YChart, over the last 20 years the Standard & Poor 500 has returned about 8.8 percent per year. Although this return is not a guarantee for future years, historically long-term investments have paid off.
So what can we learn from celebrity influence on stock?
You need a diversified portfolio! If all of your money had been in WeightWatchers when Oprah made her speech or Snapchat when Kylie Jenner tweeted, you would either have gained or lost a significant amount of capital in a short-period of time. Having a diverse portfolio helps to balance the risk associated with short-term fluctuations, while working towards your long-term goals.
Summary
Celebrity's actions can have an impact on the stock market; however, these abnormal returns usually have a short-term impact and are not a valid indicator of future growth. Social media has a short lifetime and these quick hits typically don't reflect a change in the overall value of a company. When you observe these kinds of fluctuations, it's important to keep your focus on long-term goals.