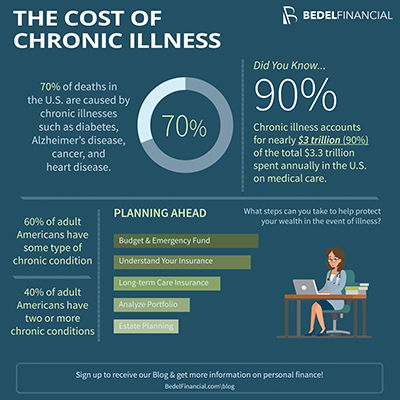 Heart disease, cancer, arthritis, and diabetes are all examples of chronic illnesses. Six in ten adult Americans has some type of a chronic condition, and four of ten adult Americans have two or more chronic conditions. While this can be a physical and mental challenge, it can also have a financial impact.
According to the Centers for Disease Control and Prevention (CDC), chronic disease is the cause of 70% of deaths in the U.S. In addition, chronic health problems account for nearly $3 trillion (90%) of the total $3.3 trillion spent annually in our country on medical care.
Chronic illness is both persistent and long lasting. An illness can start off at one level and get progressively worse. This means that medical and other living expenses tend to escalate as the individual ages. According to the CDC, 90% of seniors have at least one chronic condition and 70% have two or more. This makes planning your finances even more important.
Typically expenses will increase due to the added costs of medications, special medical related equipment, required modifications to living and work environments, and perhaps eventually the hiring of caretakers. At the same time, if working, earnings are likely to be reduced at some point if unable to work a full day. For some, a chronic disease can cut short a career. This means less income to support a family, but also creates a negative impact on retirement savings.
Planning for the Financial Impact
Start with the budget. Understand where you can make adjustments to absorb any additional costs as well as less income. To offset the initial impact, be sure to have an emergency fund in place that can provide for at least three to six months of expenses. This is also a good reason to be aggressively funding your retirement savings.
If you have a chronic illness, you need to understand the ins and outs of your medical insurance. It is important that you track all medical expenses and secure reimbursement as appropriate. Funding a flexible medical spending or health savings account will allow you to pay any out-of-pocket expenses with pre-tax dollars.
A disability policy will replace a portion of your earned income if you can no longer work. Some policies are also written to make up the difference between your full time earnings and what you are able to earn if you continue to work at a reduced level. A group plan through your employer may be available without medical qualifications. However, purchasing an individual policy may be cost prohibitive if you already have a chronic illness.
The need for physical assistance may increase as a chronic disease progresses. Having someone come to your home or moving into an assisted living facility may become a necessity. If you do not anticipate having sufficient resources to pay for this need care, you should consider some amount of long-term care insurance coverage. Medicare does not pay for this type of custodial care. Without a long-term care policy, you will be required to spend your resources before Medicaid will provide assistance. This may leave your family in a financial bind.
While life insurance is generally purchased to provide income to your dependents after your passing, some policies may also provide a living benefit to assist with medical needs.
Changes to your Investments
With a chronic disease, it may be necessary to access an investment portfolio earlier than anticipated. For this reason, the portfolio's asset allocation may need to be adjusted. While the stock market may be the place to get long-term growth, it may be too risky for someone with a higher need for liquidity.
Estate Planning Documents
Several estate planning documents can help manage your affairs during your lifetime. A durable power of attorney will allow someone that you name to take care of your finances if you are unable to do so. In addition, through a healthcare power of attorney and a living will, you can express your wishes regarding medical treatments.
Summary
Preparing for the financial impact of a chronic illness is important for the long-term financial stability of your family. With appropriate planning, the stress and anxiety as well as the financial drain can be mitigated to some extent.
Chronic disease is an expensive national problem. The good news is that healthier lifestyles can prevent the onslaught of a chronic disease or reduce the progression of an existing condition. The top three preventable causes that lead to various chronic illnesses are diet and physical exercise, use of tobacco, and excessive alcohol consumption. Go to the website of the Centers for Disease Control for more information (www.cdc.gov/chronicdisease).
Schedule a Consultation
We have helped our clients answer these questions and more. If you want a clear understanding of your financial future, and need help making changes to reach your goals, schedule a consultation and we can get started.