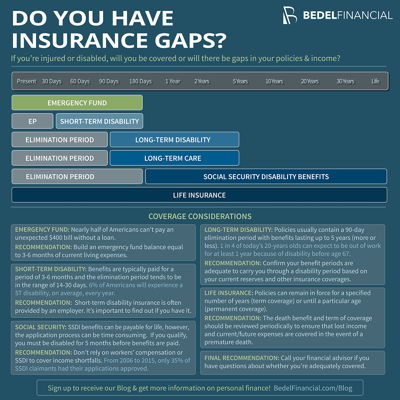 Is your insurance adequate if you suffer an injury or become disabled, and can no longer work? Will you be covered by your insurance or do you have gaps in your policies and income? Now is a great time to determine where those gaps might lie and ensure your wallet and income stay protected should you experience a "What if?" and be unable to work.

If you know anyone that could benefit from this information, please share using the links below!
About Us | More Insurance Articles | More Infographics

Source: Federal Reserve Board
Please remember that past performance may not be indicative of future results. Prior to implementing any investment strategy referenced in this article, either directly or indirectly, please discuss with your investment advisor to determine its applicability. Any corresponding discussion with a Bedel Financial Consulting, Inc. associate pertaining to this article does not serve as personalized investment advice and should not be considered as such.
Schedule a Consultation
We have helped our clients answer these questions and more. If you want a clear understanding of your financial future, and need help making changes to reach your goals, schedule a consultation and we can get started.