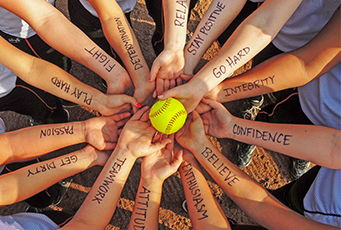 Parents get their children involved in sports for a variety of reasons: teaching teamwork and good sportsmanship, learning valuable life lessons, promoting good health, and sometimes even carrying on the family athletic legacy. Now that our daughter is playing travel softball, we're fully entrenched in the arena of youth sports, and that comes with a price tag. But just how much is it really costing us? Let's take a look.
Breaking Down the Costs
When we signed up for travel softball, we knew we were committing to pay $750 for our daughter's participation right off the bat. That seems reasonable for an entire season of tournaments plus two uniforms, a helmet, and a softball bag, right? If only $750 was the total cost…
According to USA Today, nearly 20% of families are spending more than $1,000 per month on elite youth sports. In fact, the elite youth sports industry has grown to a $15.3 billion industry, up 55% since 2010! Let's take a look at what you're really paying when it comes to youth sports.
Participation fees for the season – can range anywhere from $50 to upwards of $1,000.


Equipment costs – this varies from sport to sport, but for our purposes we'll look at softball.

Mitt - $50
Cleats - $40-$100
Uniform/helmet/bag – our travel team combines these costs together, but you're still looking at around $250
Composite bat – average of $300 for a new bat; keep in mind that bats can sell for over $500, but you can save money by purchasing the previous season's bat at a lower cost with the same function
Batting gloves - $25



Personal coaches – these lessons are typically on a weekly basis:

In Indiana, softball pitching lessons can range anywhere from $30/hour for group lessons up to $90/hour for private lessons.
Batting lessons will typically run in the $40-50 per hour range.
If yo u add in agility/sports performance training, you can expect to pay about $30 per session.
Have Sports, Will Travel
If you're involved in a travel team, you also need to factor in the following costs:
Gate entrance fees for tournaments – On average we paid $20 per adult for a weekend tournament, which came out to $40 total. Not too bad for a weekend of softball, but if you add that up over all the tournaments, you're looking at closer to $400 spent.


Travel expenses – From gas to car maintenance to hotel stays, the costs can add up quickly when you're headed to a tournament far from home.


Meals – While we were always good about packing a cooler with snacks and drinks, chances are you're going to eat out often while on the road for a tournament. And don't forget the concession stand. If your kids are anything like our youngest, they're only at their sibling's game for the cotton candy and pretzels!
Physicals/medical attention – If you're playing school sports, a physical will be required before your student can participate. There are several options available for getting a physical, and most charge around $30-40. It's also important to consider medical costs that could arise from a sports-related injury. While no one can prepare for every eventuality, it's good to at least have this possibility in the back of your mind and understand what your hospital costs could be if you're somewhere that's not in-network for your insurance.
None of this is meant to scare you off youth sports; in fact, there are many benefits for a child who is active in athletics. In fact, studies show that young athletes experience developmental, emotional, social, and often academic benefits from being involved in sports. But it's important to have your eyes wide open as you head into the world of youth sports, as it can be expensive.
All in all, we spent nearly $2,100 on one season of travel ball. While that might sound like a lot, it's not insurmountable if you plan for it. The first step is to be realistic about the cost. With proper financial expectations in place, and a budget that takes all costs into account, you're already on your way to a great season.