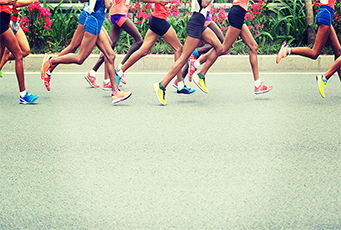 Congratulations to all of this year's Mini Marathon runners! Whether this will be your first half marathon or you're a seasoned vet, it's a massive accomplishment.

There's a lot of blood, sweat, tears, sacrifices, and planning that go into training for this momentous occasion. Although I didn't participate this year, I've run the Mini twice before and I believe there are many similarities between training for the race and creating a financial plan.
Training for a half marathon doesn't just involve running and financial planning isn't only about investing. To run the Mini you must have the appropriate gear: shoes, socks, running shorts, and maybe even a watch. You have to fuel your body with nutritious food and hydrate around the clock. The best runners also incorporate cross-training to balance their muscle groups and reduce the chance of injury.
Similarly, the best financial plans are comprehensive; they include all areas of your financial life from investment strategies, estate planning, insurance analysis, and tax efficiency, to retirement planning. Each piece is important and the financial plan may not reach its full potential without it. Some runners may only follow a mileage plan, but you won't find them at the front of the pack. The leaders of the race have training plans that encompass several key areas.
When shopping for running gear, I always shop at running stores because of the employees' expertise. They're so knowledgeable that they can recommend a shoe that provides the right amount of support based on your unique stride! During training season I base my diet on recipes from healthy-eating blogs and I carry a 20 ounce refillable water bottle with me at all times. My weekly mileage goals are based on a professionally written training plan for runners with a similar time goal. I still do the same strength-training workouts my high school cross country coach taught me years ago.
A good financial plan also relies on a team of experts and tools. One common thread among clients at Bedel Financial is that they are supported by a broad team of advisors including a financial planner, investment manager, accountant, attorney, and an insurance agent! And similar to training for the mini, these specialists provide detailed plans on what should be done to help ensure you achieve your financial goals. And the more closely you follow those plans, the greater chance of your success.
When you have a goal, whether it's to run a half marathon or to retire by the age of 60, it takes a comprehensive plan created by the recommendations of specialists to make sure you get to the finish line.