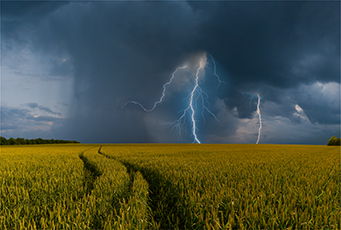 According to an NBCnews.com article, 65 percent of Americans lose sleep worrying over finances. So, how well do you sleep at night? Are you the "farmer" or the "farmhand" in Mitch Albom's book, "Have a Little Faith?" If you're not familiar with it, here's the story.
A farmer hired a helper who had only one personal reference: "He sleeps in a storm." The farmer never understood this until one stormy night, he awoke in a panic. The farmhand was fast asleep so the farmer ran around checking windows, crops, machinery, and animals—only to discover he need not have worried. Everything was safe and sound. That was his eureka moment. His farmhand had already prepared for the storm, so he was worry-free and able to sleep soundly.
Here are 8 tips for weathering financial storms and sleeping like the farmhand:
#1. Learn from the 4th Quarter
For some investors, the 4th quarter of 2018 was a storm. For others, it was a brief rain shower. If 2018's market turbulence made you feel like you were riding out a "perfect storm" in a dingy off the New England coast, there's a good chance you need to take steps to shore up your finances. Given the strong market rebounds in early 2019, now might a good time to make some changes.
#2. Create an Emergency Fund
A loss of a job or a costly emergency can happen to anyone at anytime. Make sure you set aside enough money to cover at least three to six months of your living expenses in a cash vehicle. Look at what you've spent historically to calculate a target amount. Cash yields have risen over the past couple of years. Invest any significant cash balances in a vehicle that yields at least 2 percent. (Read More: Emergency Funds: For When the Unexpected Happens)

#3. Reduce Your Debt
We recently tweeted a graphic depicting good debt versus bad debt. Mortgages, particularly those with fixed mortgage rates, are predictable expenses that help to increase your equity over time. That makes mortgage debt a "good" debt. But don't let that stop you from creating a plan to pay it off, and then sticking to it.
Credit card debt is a sign your spending habits don't line up with the cash you have available to spend. Work hard to pay down any outstanding credit card debt, i.e. "bad" debt, and vow to never accumulate credit card debt again. Those high interest rates can drag you down the debt hole and keep you there.
#4. Spend Below Your Means
Even better than aligning your spending levels with your ability to spend is spending well below your means. If you have major debts, this is practically a necessity for eliminating them. If you're debt-free, this strategy will allow you to quickly grow your savings.
#5. Invest in Safer Assets
When you are in savings mode, your first goal is to complete your emergency fund. Then begin accumulating assets in bonds. When used appropriately, bonds can help to anchor your portfolio. For one thing, they provide a source of funds you can use when you want to hold on to hard-hit stocks. You can also use these funds to rebalance your portfolio by selling bonds and buying hard-hit assets at reduced prices during opportune times.
#6. Take Advantage of Time
If you can leave your money invested for decades, be sure to keep some funds available to buy securities when they have fallen. Prices may go down further, but in the long run, buying after a significant decline can lead to great investment success. Warren Buffett made a bundle by investing cash during market downturns or buying when others were fearful.
#7. Get Your Documents in Order
Most people realize the importance of creating a will to distribute their property to the appropriate people or organizations when they pass. Perhaps even more important is making sure you have up-to-date documents that give instructions and authority to your loved ones so they can care for you if you are incapacitated. Having Financial Power of Attorney, Healthcare Power of Attorney, and Living Wills in place prior to a debilitating illness or accident is reassuring to you and your designated caretakers.
#8. Start Now
If you already have #1 through #7 in place, you probably sleep soundly during times of market stress. If you have work to do, the sooner you start, the better. Making changes now, while the financial seas appear calm, will make life easier the next time those storms pass through.
Prior to implementing any investment strategy referenced in this article, either directly or indirectly, please discuss with your investment advisor to determine its applicability. Any corresponding discussion with a Bedel Financial Consulting, Inc. associate pertaining to this article does not serve as personalized investment advice and should not be considered as such.