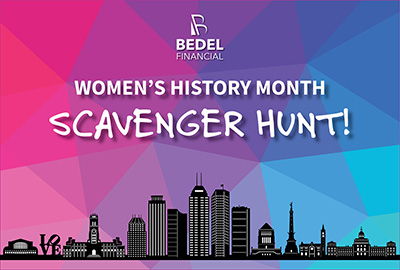 Throughout the 200+ year history of Indiana, women have played a pivotal role in shaping the Hoosier state. From business and economic leaders to civil rights trailblazers, Indiana women continue to lead the way.
Bedel Financial has organized a fun and informative scavenger hunt celebrating Women's History Month. Designed to be done at your own pace, and with help from the entire family, this challenging activity will send participants to various buildings and sites across downtown Indianapolis in search of monuments, paintings, statues, and more, highlighting some of Indiana's most influential women.
To play, all you have to do is follow the clues below. As you use the clues to discover the sites that celebrate these influential women, we encourage you to take a picture at each stop and send them to us at Bedel@BedelFinancial.com.
Some clues are easier than others, so make sure you pay close attention. If you find yourself stuck on a clue and need a helpful hint, email CWakefield@BedelFinancial.com.
This woman was one of the first black female students to attend the John Herron Art Institute in 1911. Find a tribute to her in the halls of the current Herron School of Art and Design, located on W. New York St. on the campus of IUPUI.


Built in 1927, this building pays homage to the legacy of America's first female self-made millionaire. Her cosmetics and hair care products were sold around the country. The building itself is a National Historic Landmark.


For 20 years, she represented Indianapolis in the United States House of Representatives. Head to the Indiana Statehouse and find her sculpture.


Created by Indianapolis artist Kassie Woodworth, unique artwork highlights six Indiana women who played critical roles in the suffragette and civil rights movements. It is located on the third floor of the Indiana Statehouse.


Inside the Indiana Statehouse, you'll find the bust of this woman, the first female Associate Justice of the Indiana Supreme Court.


Four of the last five holders of this position have been women; Kathy Davis, Becky Skillman, Sue Ellspermann, and Suzanne Crouch (current). Find their office inside the Indiana Statehouse.


Take a picture outside of this building, where basketball Hall-of-Famer Tamika Catchings helped lead the Indiana Fever to a WNBA championship in 2012.


Find the larger-than-life mural of this Holocaust survivor who moved to Indiana and encouraged us all to "Think of one thing you can do to make the world better."


Head to Massachusetts Avenue and pose in front of this piece of art that pays tribute to one of Indiana's greatest poets.


Located near 16th and Delaware, this organization helped lead the way in the women's suffrage movement and today offers education, enrichment, and cultural programming for women.
Recommended Articles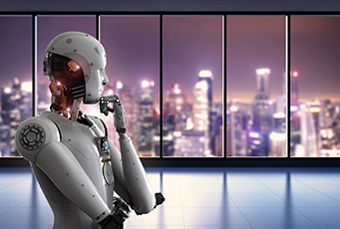 The impact A.I. will have on your finances is limitless....