Record 7 Advisors Receive 2018 Five Star Wealth Manager Award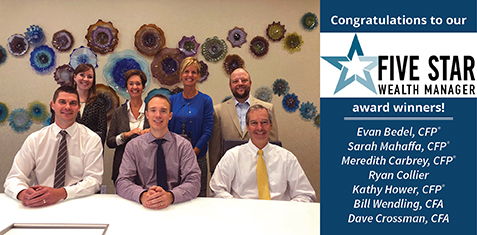 Evan Bedel, CFP®; Meredith Carbrey, CFP®; Ryan Collier, CIMA®; Dave Crossman, CFA; Kathy Hower, CFP®; Sarah Mahaffa, CFP®; and Bill Wendling, CFA, have been selected to receive the 2018 Five Star Wealth Manager Award and will be featured in a special section of the October issue of Indianapolis Monthly honoring these award winners. Each of our advisors has been nominated and selected for the Five Star Wealth Manager Award due to his or her service, experience and industry knowledge.

"It's an honor to have seven advisors recognized by Five Star as a top wealth advisor. We have a great team at Bedel Financial that allows us to focus all of our attention on providing the highest level of service and customized financial guidance for our clients. We would not be able to achieve success and recognition without a great support team."
The 2018 Five Star Wealth Manager award winners have been carefully selected for their commitment to providing quality services to their clients. The award is based on an in-depth research process incorporating peer and firm feedback with objective criteria such as client retention rates, client assets administered, industry experience and regulatory and complaint history.
Bedel Financial is a wealth management firm providing fee-only comprehensive wealth management services for young affluent professionals, accumulators, and those approaching retirement. Elaine Bedel founded the firm, which has since grown to 22 employees, in 1989. Bedel Financial actively manages over $1 billion in client investments.