Get financial clarity, insight, and analysis delivered straight to your inbox.
Subscribe to our weekly blog.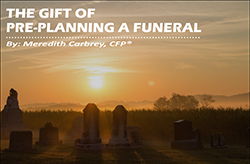 Chances are planning your own funeral probably isn't high on your list of things you'd like to do. But taking the time now to plan how you would like your life to be celebrated can be a wonderful gift for your family and friends, removing undue stress from them during an already emotional time.