Get financial clarity, insight, and analysis delivered straight to your inbox.
Subscribe to our weekly blog.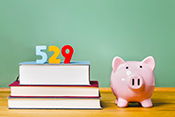 Do you know what post-high school educational expenses qualify for tax-free reimbursement from your child's 529 account? It's important to know what expenses do qualify in order to avoid paying taxes and a penalty for those expenses that don't.